Mandarin Oriental Spa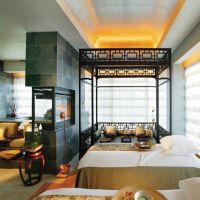 Eastern and Western Philosophies blended together!
Set up above the busy city of New York, at the 35th floor of Mandarin Oriental Hotel, with a breathtaking view over Central Park, Mandarin Oriental Spa is a 5 star wellness establishment. You will fall in love with the chic decor and the state-of-the art equipment. The spa facilities include 6 treatment rooms with private showers, a fitness center, a sauna, a 75-foot lap pool, an Amethyst Crystal Steam Room and other great amenities.

Everything here is designed to make you feel special. The spa therapies consist of 2 to 3 hours of tailored massages. Full day or half day spa programs are also available if you want a complete Mandarin experience.