Great Jones Spa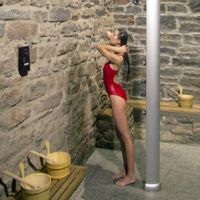 Welcome to a Sanctuary of Health and Beauty!
Great Jones Spa is worlds away from the stressful and noisy environment we live in. Their entire philosophy is based on the belief that the body has a natural mechanism of auto-correct if put in the right environment. This is why they teach every customer to balance themselves through water therapy. They have a magnificent wet lounge surrounded by a 3 story indoor waterfall which will make you feel as if you were in the middle of the nature. Let yourself be pampered with luxurious spa treatments and afterwards enjoy a fresh and natural juice at the juice bar.

The lounge may be used free of charge by the clients that purchase spa treatments of at least $100. For spa treatments under $100 a $50 is charged.